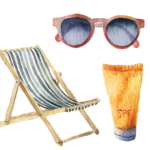 There's nothing quite like spending a nice summer day outside under the sun, whether swimming, relaxing on the beach or poolside, or even just chilling on the back deck of your house. But if you aren't careful about protecting your skin, the resulting, and often very painful, sunburn may make you feel less than sunny about skimping on sunscreen again. But which one should you choose? There are numerous available varieties and formulations of sunscreen, which can make choosing the right one difficult. Here we review the different types of sunscreens and provide tips on selecting the optimal one for your individual needs.
MINERAL VS. CHEMICAL SUNSCREEN
There are two main types of sunscreen—mineral and chemical. The main difference between them comes down to barrier characteristics.
Mineral sunscreens. Mineral sunscreens, also known as physical sunscreens, block—or screen—the sun by reflecting ultraviolet (UV) light away from the skin.1 They sit on the top of the skin and are designed to remain effective in direct UV light for several hours due the thickness of the formulations. Though effective, these sunscreens are not typically transparent on the skin (i.e., they usually leave a visibly white sheen on the skin upon application—think white-nosed lifeguard at the pool or beach) and are noticably oily feeling, which some individuals may find undesirable.
Mineral sunscreens are typically  formulated using zinc oxide and/or titanium dioxide.2 The American Academy of Dermatology recommends this type of sunscreen for people with sensitive skin.
Chemical sunscreens. Chemical sunscreens do not sit on top of the skin like mineral sunscreens. Rather, they are absorbed into the skin. All chemical sunscreen formulas contain one or more of these common active ingredients: oxybenzone, avobenzone, octisalate, octocrylene, homosalate, and/or octinoxate.3 Chemical subscreens sink into the skin and absorb the sun's rays like a sponge. Once absorbed, the rays are converted to heat and released from the skin.3 Many people prefer chemical sunscreens for everyday use over mineral sunscreens because chemical sunscreens are generally lightweight and are invisble on the skin.
In 2019, researchers at the U.S. Food and Drug Administration  (FDA) investigated whether use of chemical subscreens resulted in "systemic absorption" of the active ingredients into the bloodstream.4–6 Blood samples from 48 healthy study participants, who applied commercially available chemical sunscreens on a daily basis, were taken over the course of three weeks. The results showed that all six of the tested active ingredients in the chemical sunscreens were present in the bloodstreams of the participants—in concentrations surpassing the FDA threshold for systemic absorption, potentially waiving some of the additional safety studies for sunscreens.4 These results understandably rattled some consumers. However, the study's authors stressed that their "findings do not indicate that individuals should refrain from the use of sunscreen."4 Experts agree that the association between sun exposure and developing skin cancer has far more supporting scientific evidence than potential risks of systemic absorption of ingredients used in chemical sunscreen formulations. Furthermore, sunscreens, unlike most skin-care products, are regulated like a drug and continue to be evaluated to ensure safety and effectiveness.4,6,7 The FDA is continuing to investigate these issues and, notably, has not concluded that the chemical sunscreens are unsafe for use.5–7
FORMS OF SUNSCREEN
Sunscreens are available as lotions, sprays, gels, and wax sticks. Some dermatologists advise using lotions over sprays because the latter can be harder to see when applying, making it easier to miss spots and more difficult to know whether enough has been applied.8 Inhaling chemicals from sunscreen sprays is another concern, which is why the American Academy of Dermatology recommends that, when applying spray sunscreen to your face, you should spray the sunscreen into your hands and rub it into your face.1
When selecting the most appropriate form of sunscreen, certainly personal choice comes into play. But it is more important to consider what you will be doing while out in the sun (e.g., swimming, vigorous or sweaty activities, relaxing in the shade) before making your selection. Additionally, some forms of sunscreen are more suitable for certain body parts over others.
The American Academy of Dermatology makes the following recommendations:
Mineral sunscreens may be best for infants and other people with sensitive skin because they are less likely to cause irritation.
Lotion formulations are best for those with dry skin and for use on the face.
Gel formulations are better for hairy areas of the body, such as the scalp or male chest.
Stick formulations are good to use on the face and around the eyes.
Spray formulas are easy to apply across large parts of the body, but special care should be taken to thoroughly cover all exposed skin.
SUNSCREENS IN COSMETICS
Many cosmetics today contain sunscreen ingredients. However, experts caution against relying on these products as primary forms of protection from the sun because most of cosmetic products with added sunscreens do not adequately protect against UVA rays. UVA rays are present year-round and can even travel through window glass.9  However, using a facial moisturizer with sunscreen ingredients in it is an easy way to boost protection from the sun, provided that isn't the only form of protection you use from the sun. If you don't use a moisturizer, try a sunscreen that is specifically designed for the face. These tend to be more lightweight than traditional ones and can often be used underneath make-up (if you use make-up). Sunscreen should be the last skin care product you use before applying makeup.1,9
HOW HIGH? HOW MUCH? HOW OFTEN?
How high? When selecting a sunscreen, you should have this checklist in mind: SPF (sun protection factor), broad spectrum, and water resistance. A sunscreen product's SPF measures the level of protection from UV light (UVA and/or UVB).11 The American Academy of Dermatology recommends using a sunscreen that has an SPF of at least 30.1,2 Think about SPF is in terms of percentages: SPF 15 filters out approximately 93 percent of UV rays, SPF 30 keeps out 97 percent, and SPF 50 keeps out 98 percent.9 The Skin Cancer Foundation says that sunscreen with a minimum SPF of 15 is fine for daily use, but you should use a water-resistant formula with an SPF of at least 30 if you're spending an extended amount of time outdoors.
Next, search for the term "broad spectrum" on the label. This means that your sunscreen offers broad-spectrum protection against both UVA and UVB rays.9,11 Both types of UV rays penetrate the skin and cause damage that can lead to skin cancer. If your sunscreen only offers protection against one type of UV ray, your skin is still vulnerable to sun damage.
Finally, look for a sunscreen that is water resistant. Despite marketing claims, waterproof sunscreen does not exist.10–12 The water in our sweat or from swimming washes sunscreen from our skin, so the FDA no longer allows manufacturers to claim that a sunscreen is waterproof. However, sunscreen can be manufactured to be water resistant. Water resistance is measured by how long the product will stay on wet skin. The terms water resistant and very water resistant typically describe sunscreen that offer protection for 40- or 80-minute increments, respectively.12 Notably, the FDA has not defined the term sports on sunscreen labels; however, this term generally means that the sunscreen is water resistant and will stay on wet skin for either 40 or 80 minutes.
How much? How often? A general rule of thumb when applying sunscreen is to use one ounce of sunscreen, about the amount that would fit into a shot glass, to cover the entire body.9 For the face, a nickel-sized dollop works. Slathering on sunscreen in the morning isn't enough to protect you all day though. The Skin Cancer Foundation recommends applying sunscreen 30 minutes before going outside, then reapplying every two hours and immediately after swimming or sweating.
BOTTOM LINE
It's easy to be overwhelmed by all the options when shopping for sunscreen. When it comes down to it, however, choose a water-resistant, broad-spectrum sunscreen with an SPF of at least 30.1 The best sunscreen is the one you'll use correctly and consistently, but any type of sunscreen is better than none at all.
SOURCES
1.   American Academy of Dermatology site. Sunscreen FAQs. https://www.aad.org/public/everyday-care/sun-protection/sunscreen-patients/sunscreen-faqs. Accessed 1 Jun 2021.
2.  American Academy of Dermatology site. 5 common sunscreen mistakes—and how to avoid them. https://www.aad.org/public/everyday-care/sun-protection/sunscreen/common-sunscreen-mistakes. Accessed 1 Jun 2021.
3.  Hoffman JK. Get to know the difference between mineral and chemical sunscreen. 30 Jun 2019. Neutrogena website. https://www.neutrogena.com/the-bar/the-difference-between-mineral-and-chemical-sunscreen.html. Accessed 8 Jun 2021.
4.  Matta MK, Zusterzeel R, Pilli NR, et al. Effect of sunscreen application under maximal use conditions on plasma concentration of sunscreen active ingredients: a randomized clinical trial. JAMA. 2019;321(21):2082–2091.
5.  Ourisman J. The difference between chemical and mineral sunscreens—and why it matters. 28 May 2021. Allure website. https://www.allure.com/story/chemical-vs-mineral-sunscreen. Accessed 1 Jun 2021.
6.  Hied M. The truth about mineral vs. chemical sunscreens. 7 Apr 2021. Elemental website. https://elemental.medium.com/is-mineral-sunscreen-really-safer-than-chemical-d486d5752cdf. Accessed 1 Jun 2021.
7.  Neighbond P. Confused about sunscreen ingredients? Here's what we've learned. 4 Aug 2019. National Public Radio website. https://www.npr.org/sections/health-shots/2019/08/04/747648291/confused-about-sunscreen-ingredients-heres-what-we-ve-learned. Accessed 1 Jun 2021.
8.  Latha MS, Martis J, Shobha V, et al. Sunscreening agents: a review. J Clin Aesthet Dermatol. 2013;6(1):16–26.
9.  Skin Cancer Foundation site. Making your sunscreen work with your makeup. 9 Jan 2018. https://www.skincancer.org/blog/making-sunscreen-work-makeup/. Accessed 14 Jun 2021.
10. Sander M, Sander M, Burbidge T, Beecker J. The efficacy and safety of sunscreen use for the prevention of skin cancer. CMAJ. 2020;192(50):E1802–E1808.
11. Kuritzky LA, Beecker J. Sunscreens. CMAJ. 2015;187(13):E419.
12.        American Academy of Dermatology site. How to decode sunscreen labels. https://www.aad.org/public/everyday-care/sun-protection/sunscreen/understand-sunscreen-labels. Accessed 1 Jun 2021.