Temperance Training is nonprofit inclusive community of men and women who are recovering from alcohol or drug addiction and who value spiritual and physical fitness. Their mission is to inspire health and hope and to destigmatize the disease of addiction in our society. Here, the NHR staff talks with cofounder and head coach of Temperance Training, Anthony Fazio, who tells us about the foundation and its annual Outwork Addiction fundraising event.
---
How did Temperance Training begin?

 
Anthony: Temperance Training is a nonprofit organization that Tim Mustion, Rob Plamondon, and I founded in 2007 in Boca Raton, Florida. Tim and I are both in recovery and found that fitness, specifically CrossFit, helps strengthen our sobriety, put us in touch with other health-minded humans, and make us stronger mentally and physically. We wanted to offer free CrossFit classes, group meditations, and other sober festivities to anyone in recovery. Our friend, Rob, the owner of CrossFit Hype in Boca Raton got on board and let Tim and me run classes from his gym and use his equipment. We strive to foster personal growth through physical endurance, peer to peer accountability, and opportunities for service and fellowship. In 2019, Tim and his wife Gia (who ran the show from behind the scenes) moved to Colorado to grow their family, so my wife, Marci, stepped into the role of creative coordinator at that time.
What are the Weekday Warrior and Sober Sunday classes?
Anthony: Weekday Warriors is just our name for the free classes we offer to men and women in recover. The classes are held at 1pm every Monday through Friday at our Boca Raton location. Sober Sunday is held every Sunday at 9am. The Weekday Warriers and Sober Sunday classes follow the same fitness programming as CrossFit Hype, in that each class is an hour long and includes a warm-up that is typically followed by a strength component and a metabolic conditioning (MetCon) piece. The classes are coached by our certified Temperancce Training coaches. There are usually anywhere from 5 to 30 people in each class, and on Sober Sundays, we have welcomed as many as 100 participants to a class.
Do participants form bonds and establish relationships through Temperance Training?
Anthony: Yes! The bonds our athletes establish with one another are unique, not only because we encourage the camaraderie and connection formed in any CrossFit class, but because most of us have experienced the same hardships and triumphs that only people in recovery know.
Do participants need be in top physical shape to join a

 

Temperance Training class?
Anthony: Because every movement is scalable, absolutely anyone of any fitness level can take one of our classes. All we ask is that participants have at least 24 hours of sobriety. Loved ones are also encouraged to join us, as many have been equally affected by the disease of addiction.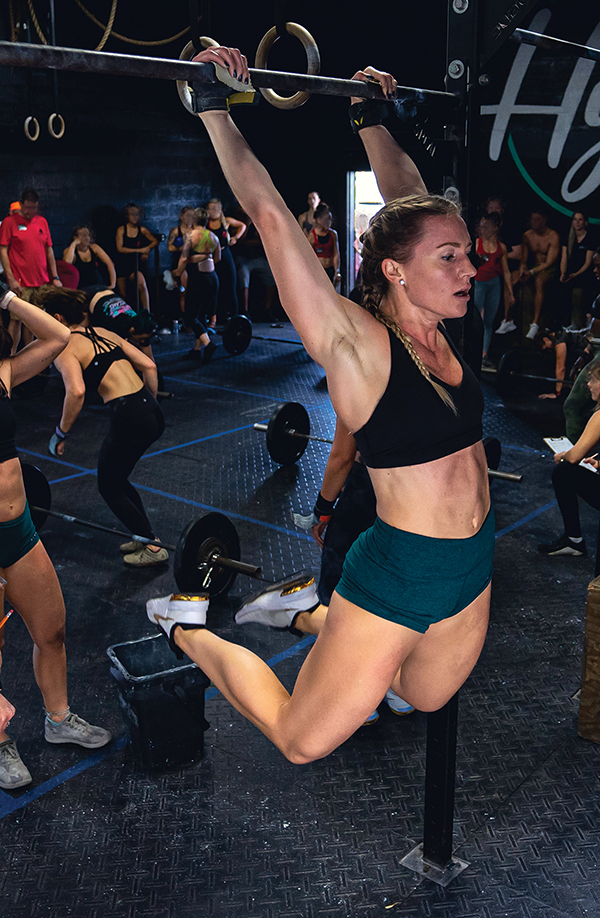 Please share more about your annual fundraiser, the Outwork Addiction competition.
 Anthony: Outwork Addiction is the annual fundraiser we started in 2018. It's our main source of donations, and provides the funding for most everything Temperance Training does. Individuals in our community use an amazing platform called "Give Lively," which provides fundraisers all the tools they need to share Temperance Training's story and their own if they want to. 
The culmination of the fundraiser is the CrossFit competition in November. To encourage competitors to fundraise, we keep the registration fee minimal and set a "suggested fundraising goal" for each athlete. The top fundraising team wins prizes sure to be coveted by any fitness enthusiast. For the competition, there are four divisions: Men's Scaled (beginner), Men's RX (advanced), Women's Scaled (beginner), and Women's RX (advanced). There are typically three workouts to be completed on a strict schedule of heats throughout the day. 
Vendors can pay to set up tents or tables to give away samples and/or flyers with information about their products and services, and some vendors sell their goods at discounted rates for our athletes and spectators. Food and drinks are included and are available to spectators, judges, and athletes. 
Prizes are given to 1st, 2nd and 3rd place winners in all four divisions, and each registered athlete receives a goodie bag, as well. There is a raffle that is always jam-packed with fun, interesting, luxurious, and adventure-filled items, helping raise even more funds toward our Outwork Addiction total. The glue that holds the event together, however, really are the volunteers. Without them, we would not be able to run this amazing day. 
Funds raised through Outwork Addiction literally keep our Temperance Training classes free throughout the year. Coaches who have earned a CrossFit Level 1 Trainer scholarship work as volunteers for a set period of time, and then they are paid for the classes they coach. We also pay our staff to coordinate scheduling, run payroll, organize events, and advertise and post on social media, among other things. Part of the funds we raise goes back into the gym, CrossFit Hype, to upgrade equipment and pay for time and space. Eventually, we hope to fund Temperance Training community outings, such as movie or bowling nights, as well as additional scholarships for CrossFit L1 Trainer Certificates and other needs of the community.
How can readers of NHR get involved to support Outwork Addiction Events?
Anthony: Readers can help keep Temperance Training classes free and our community thriving by donating funds via temperancetraining.org or by volunteering their time during our CrossFit event in November. They can also donate goods and services to our raffle or as prizes for the competition winners. Volunteer registration and other donation information will be posted via social media—Facebook and Instagram—as well as on our website, temperancetraining.org, closer to the time of the event.