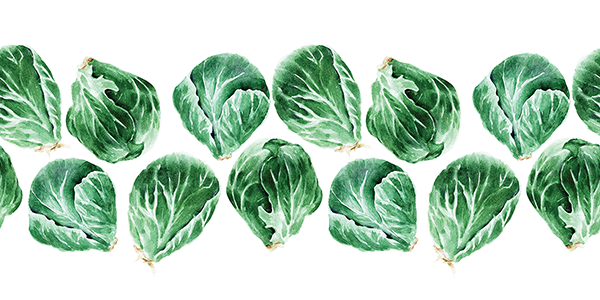 Despite their tiny size, Brussels sprouts are a powerhouse of nutrition—and deliciousness! These little members of the cabbage family are the perfect addition to any lunch or dinner, thanks to their versatility and unique flavor. 
Nutrition Information
Brussels sprouts are an excellent source of essential nutrients. One cup of raw Brussels sprouts contains 74.8mg of vitamin C, 156µg of vitamin K, 53.7µg of folate, 396µg of beta carotene, and 3.34g of dietary fiber.1 When cooked, one-half cup of Brussels sprouts provides 2g of fiber, 91 percent of the daily value (DV) of vitamin K, 53 percent of the DV of vitamin C, and 12 percent of the DV of folate.2
Health Benefits
Brussels sprouts are rich in vitamin K, which is essential for blood clotting and bone health, and consuming high amounts is associated with lower risk of fracture.2,3 People taking blood thinning medication should be mindful to maintain a consistent consumption of foods high in vitamin K, such as Brussels sprouts, due to its role in blood clotting.2–4
Vitamin C plays a role in eye health,3 immune health, tissue growth and repair, and absorption of iron found in plant-based foods.2 Vitamin C is also involved in the production of collagen, a protein that supports skin strength and elasticity; beta carotene also contributes to maintaining healthy skin.2,3 
Along with vitamin C, Brussels sprouts contain other antioxidants, which help reduce oxidative stress in cells and protect against chronic, proinflammatory diseases, such as diabetes, heart disease, and cancer.2,4 
Several studies have shown that Brussels sprout consumption can help reduce the risk of Type 2 diabetes, due their high fiber and alpha-lipoic acid (ALA) content. Fiber helps keep blood glucose levels stable, and ALA is associated with improvements in insulin sensitivity and oxidative stress-induced changes.2–4 
High fiber intake not only stabilizes blood glucose levels, but also decreases cholesterol levels, which reduces the risk of heart disease and stroke.6 In addition, fiber supports regular bowel movements and prevents constipation.2,6
Folate, another essential nutrient found in Brussels sprouts, is necessary for neonatal health. Folate contributes to the formation of the neural tube, protects against birth defects, such as spina bifida, and is involved in deoxyribonucleic acid (DNA) formation and maintenance.6 
Like other cruciferous vegetables, Brussels sprouts have sulfur-containing phytochemicals, called glucosinolates, which give them their distinct bitter flavor. When cooked and digested, glucosinolates break down into isothiocyanates, which have protective properties against cancer, such as protecting DNA against damage and preventing new blood vessel growth in tumor cells. However, research has yet to find a direct connection between Brussels sprouts consumption and reduced cancer risk in humans.2,5
How to Store and Prepare
Brussels sprouts can be purchased fresh in bags or on the stalk or frozen. If purchased fresh, they should be bright green, firm, and compact. Fresh Brussels can be stored for 1 to 2 weeks in the refrigerator and 3 to 5 weeks in the freezer.5,7 If freezing, remove the loose outer leaves, blanch for 3 to 5 minutes, and let them cool before packing them into a freezer bag.7 Brussels sprouts can be consumed raw or cooked and prepared in a variety of ways, such as sliced raw as a salad topping, boiled, steamed, roasted, or sautéed.
Bottom Line
The high nutrition content of Brussels sprouts makes them a great vegetable to add to any diet, and the variety of ways in which they can be prepared means you'll never grow tired of them!
Sources
United States Department of Agriculture. Brussels sprouts, raw. 1 Apr 2019. https://fdc.nal.usda.gov/fdc-app.html#/food-details/170383/nutrients. Accessed 14 Nov 2022.

Link R. 9 ways Brussels sprouts benefit your health. Healthline. Updated 12 Apr 2022. https://www.healthline.com/nutrition/benefits-of-brussels-sprouts#1. Accessed 14 Nov 2022.

Ware M. What to know about Brussels sprouts. Medical News Today. 12 Nov 2019. https://www.medicalnewstoday.com/articles/284765#benefits. Accessed 14 Nov 2022.

Shubrook N. Top 5 health benefits of Brussels sprouts. BBC Good Food. Reviewed 13 Sep 2021. https://www.bbcgoodfood.com/howto/guide/health-benefits-brussels-sprouts. Accessed 14 Nov 2022.

Harvard T.H. Chan School of Public Health. Brussels sprouts. https://www.hsph.harvard.edu/nutritionsource/food-features/brussels-sprouts/. Accessed 14 Nov 2022.

Ipatenco S. What are the health benefits of eating Brussels sprouts?

SFGATE

. Updated 14 Dec 2018. https://healthyeating.sfgate.com/health-benefits-eating-brussels-sprouts-4461.html. Accessed 14 Nov 2022.

Reed S. Benefits of eating Brussels sprouts. Penn State Extension. Updated 28 Feb 2020. https://extension.psu.edu/benefits-of-eating-brussels-sprouts.

Accessed 14 Nov 2022.