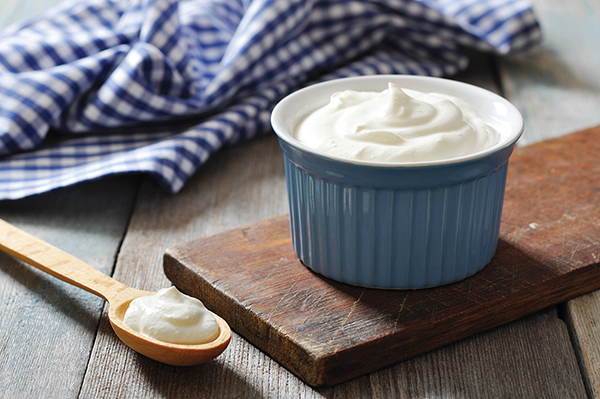 Makes 4 cups
4 cups milk (whole, 2%, 1%, or skim)

½ cup yogurt (or package of powdered yogurt starter)
Place milk over medium heat and heat until it reaches 180 degrees F, stirring periodically

Let the milk cool to 115 degrees F

Once milk is cooled, stir in yogurt/yogurt starter until fully incorporated

Pour into a glass container, bowl, Dutch oven, etc. and cover with a lid or towel

Place into oven with oven light on (do NOT turn on the oven itself) and let rest for 8 to 12 hours; the longer it rests, the tangier and thicker the yogurt will be.*

Refrigerate for up to 2 weeks.
*After this step, you will notice liquid whey pooled at the top of the yogurt. For Greek yogurt, strain the yogurt with a cheesecloth or colander to get rid of this liquid.
Calories: 146; Total Fat: 7.9g; Saturated Fat: 4.6g; Cholesterol: 24mg; Sodium: 98mg; Total Carbohydrate: 11g; Dietary Fiber: 0g; Total Sugars: 12.8g ; Protein: 7.9g; Vitamin D: 98mcg; Calcium: 276mg; Iron: 0mg; Potassium: 349mg